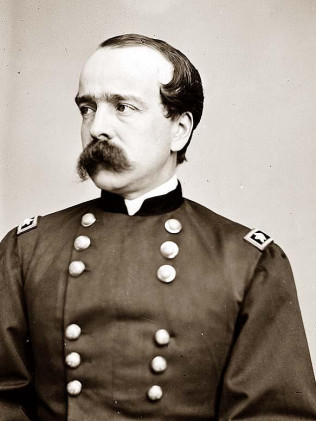 Taps Our Duty…We named our company after the most famous of all bugle calls, Taps. That's not only because the mournful tune signifies the dignity of the deceased Veteran. It's also because its composer, Civil War U. S. General Daniel Butterfield, was born in Utica, New York, our home base.
General Butterfield created the tune while his men were recovering from the Seven Days Battles near Richmond, Virginia. He was not happy with the standard bugle call signaling the men to go to sleep. He wanted something that had a bit more melody.
After hearing it, buglers from other units picked up the new tune. It quickly spread throughout the Union Army. Even the Confederates played it.
Historians aren't completely sure how the name "Taps" came about. But probably because the former lights-out call was followed by three drum beats. Soldiers called that "Drum Taps" or just "Taps." Soldiers kept calling the new tune "Taps," too. Even though Butterfield named his tune "Extinguish Lights," the name "Taps" stuck.
Daniel Adams Butterfield
Daniel Butterfield was born October 31, 1831 in Utica, New York. His father, John, was a notable entrepreneur in Utica. John trail-blazed the transportation business in the United States. He started his career as a stage coach driver and ended up founding Butterfield, Wasson, and Company, the forerunner of American Express!
Daniel Butterfield grew up in Utica. He went to Utica Academy, and graduated Union College in Schenectady in 1849 at the young age of 18. After graduation he travelled west. He then started his career working for his father in Utica. His job was to schedule the Overland Stage line between Memphis, St. Louis, and San Francisco.
Just before the Civil War he joined the Twelfth Regiment of the New York State Militia. He quickly rose to the rank of Colonel, mustering in New York City at the beginning of the Civil War in April of 1861. His unit was originally assigned guard and garrison duty in Washington. But then it was at the head of the column that advanced into Alexandria, Virginia.
He was promoted to brigadier general in command of the Third Brigade of the Fifth Army Corps, Army of the Potomac. He fought brilliantly in the Battle of Hanover Court House in May of 1862. He even wrote a manual on camp and outpost duty for infantry.
At Gaines' Mills near Richmond he was seriously wounded. But he rallied his regiment to hold their ground. He later received the Medal of Honor for that heroic act. He also served at the Second Battle of Bull Run, at Antietam, and the Battle of Fredericksburg.
He advanced to become a major general and chief of staff of the Union Army under Generals Hooker and Meade. He was wounded at Gettysburg by cannon fire but amazingly remained in field service until finally getting sick with fever.
He stayed in the army at the end of the war until 1870 when he left to serve under President U.S. Grant in the Treasury Department. He ended up back to work for the American Express Company and retired in Cold Spring, New York.
Butterfield died on July 17, 1901 and was buried at West Point. His tomb is the most ornate there, even though he never did attend the Military Academy. There is also a monument to Butterfield in New York City next to Grant's Tomb.
We suggest you go to Jari Villanueva's website for much more on Butterfield's life, his military service, and his writings. He was an amazing man and we're proud that he was a fellow Utican.
And like many of the Veterans we honor at their military wakes, an American hero!
Until next time,
Mark Williamson
Command Master Chief
U. S. Navy (Retired)
I served 23 years active duty and saw firsthand the courage, selflessness, and sacrifices our soldiers make. I feel a personal and solemn obligation to offer them the military wake they so rightly deserve. Call me, Mark Williamson, at 315.272.7327 or contact me here to request a military wake for your loved one.