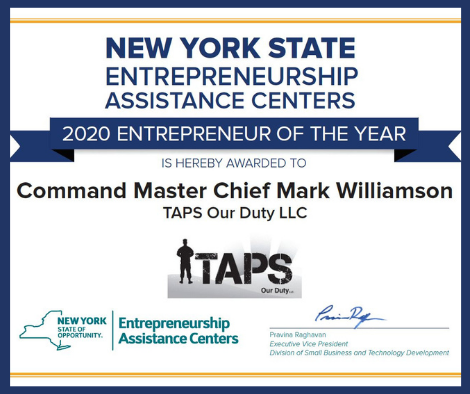 Taps Our Duty Wins the New York State Entrepreneurship Assistance Centers' 2020 Entrepreneur of the Year Award
We received some good news from the New York State Entrepreneurship Assistance Center (EAC). They announced us winner of the 2020 Entrepreneur of the Year Award!
Bette Yee, Director of the EAC presented Mark Williamson the award at the 33rd Conference & Awards Event. It brought together experts from Empire State Development and other state agencies to share best practices.
The Entrepreneurship Assistance Centers provide training, technical assistance, and support to new entrepreneurs. They've helped more than 9,800 entrepreneurs reach their business goals in New York State.
Mark was nominated for the award by Pat Laino, Executive Director of the Business Training Institute in Utica, NY. He received expert help from Pat and her staff. They advised him on setting up his business and developing a viable marketing plan. He's truly grateful for her confidence in him and the mission of Taps Our Duty.
As our customers know, we provide families of deceased Veterans a special military calling hours. It includes a wake configuration outfitted with the flags, carpet, and colors of the Veteran's branch of service. Doesn't matter whether the Veteran served for just a short time or was highly decorated. Taps Our Duty provides the military calling hours they rightly deserve.
We thank the NYS Entrepreneurship Assistance Center and the Business Training Institute for their support. We are truly grateful!
Until next time,
Mark Williamson
Command Master Chief
U. S. Navy (Retired)
I served 23 years active duty and saw firsthand the courage, selflessness, and sacrifices our soldiers make. I feel a personal and solemn obligation to offer them the military wake they so rightly deserve. Call me, Mark Williamson, at 315.272.7327 or contact me here to request a military wake for your loved one.