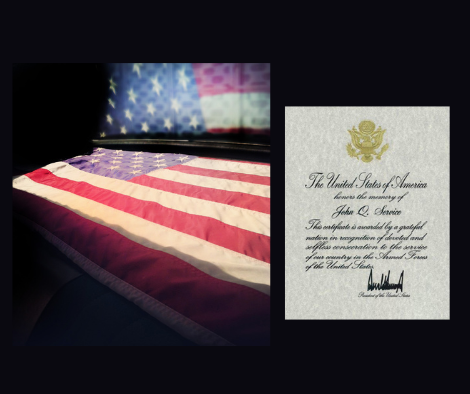 A Veteran's funeral is a solemn occasion. It's where friends and family celebrate their loved one's life and service.
A grateful country is also there with free memorial items. In a previous article we talked about the Veterans Administration's free headstone, grave marker, and medallion. The VA will also contribute a burial flag and Presidential Memorial Certificate at no cost to you. We'll discuss those today.
As we said before, we recommend you consult with your funeral director and the VA website. Here is the section at VA.gov where you can find out exactly how to apply.
Burial Flag from the VA
To honor the military service of a Veteran, the VA provides a United States flag. It can be draped on the casket or coffin. Or placed with an urn. The eligibility requirements include at least one of the following:
Served in wartime, or
Died while serving on active duty after May 27, 1941, or
Served after January 31, 1955, or
Served in peacetime and left military service before June 27, 1950, after serving at least 1 enlistment, or because of a disability that was caused—or made worse—by their active military service, or
Served in the Selected Reserves (in certain cases), or served in the military forces of the Philippines while in service of the United States and died on or after April 25, 1951.
The link for the application is at the memorial section of the VA website mentioned above.
Presidential Memorial Certificate (PMC) from the VA
The PMC program started in March 1962 by President John F. Kennedy. It's an engraved paper certificate signed by the current president. To be eligible for the PMC, both of the following must be true:
The Veteran or Reservist is eligible for burial in a national cemetery, and
The applicant is next of kin, family member, or close friend of the Veteran or Reservist. Or one of their authorized service representatives.
Veterans are eligible for burial in a VA national cemetery if one of these is true.
The person is:
A Veteran who didn't receive a dishonorable discharge, or
A service member who died while on active duty, active duty for training, or inactive duty for training, or
The spouse or minor child of a Veteran, even if the Veteran died first, or
In some cases, the unmarried adult dependent child of a Veteran.
The link for the PMC application is also at the memorial section of the VA website.
The sacrifice and service of a deceased family member should be honored at their funeral. That's why the VA offers the free U. S. flag and Presidential Memorial Certificate. All you have to do is click onto the VA website and apply.
We also want to help you honor your loved one's service at the calling hours. Get in touch with us to discuss a sacred space at the wake. We will be sure it's properly outfitted with the flags, carpet, and colors of the deceased Veteran's branch of service.
We look forward to answering your questions. And helping you plan a respectful viewing. One that properly honors your loved one's military service. You can even include us in your advanced funeral planning. So give us a call today.
Until next time,
Mark Williamson
Command Master Chief
U. S. Navy (Retired)
I served 23 years active duty and saw firsthand the courage, selflessness, and sacrifices our soldiers make. I feel a personal and solemn obligation to offer them the military wake they so rightly deserve. Call me, Mark Williamson, at 315.272.7327 or contact me here to request a military wake for your loved one.