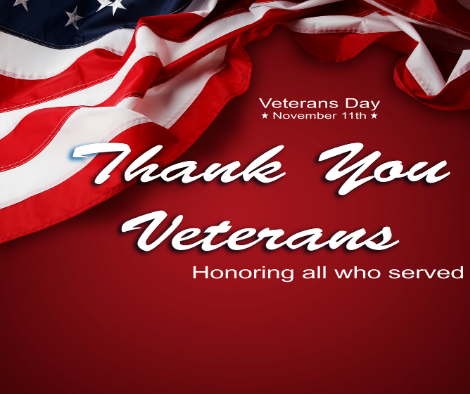 Thanks to Veterans for Their Courage, Selflessness, and Sacrifice
Freedom is not free. So this Veterans' Day is a good time for an enthusiastic "thank you" to anyone you know who served.
And have you noticed that Veterans Day is one of the few holidays that aren't subject to the Uniform Holiday Bill? This is where national holidays are celebrated on Mondays. The idea is to give people a long weekend. But Veterans Day is celebrated on November 11 no matter where it falls on the calendar.
Why is that? Here's the story…
The idea for a day to honor Veterans got its start soon after World War I. This horrific European conflict began in 1914. It pitted what were called the Central Powers against the Allied Powers. That is, Germany, Austria-Hungary, Bulgaria, and the Ottoman Empire on one side. On the other, Great Britain, France, Russia, Italy, Romania, Japan, and the United States.
Over 16 million people died including both soldiers and civilians. The carnage was so bad that it was known at the time as "The Great War." People came to believe that it was so intolerable that it would be the, "War to End All Wars." As it turned out, this unfortunately wasn't the case.
But World War I did officially end with the Treaty of Versailles signed on June 28, 1919. But before that, fighting had ceased with an armistice. This temporary cessation of hostilities started exactly on the eleventh hour of the eleventh day of the eleventh month of 1918.
That is, 11:00 AM on 11.11.1918. So the eleventh is the date Veterans Day is celebrated every year.
Starting in November of 1919 it was called Armistice Day. For years it was a day to be celebrated with parades and public meetings. And a brief suspension of business at exactly 11:00 AM.
In 1938 Congress made Armistice Day a legal holiday. It was dedicated to the veterans of World War I and world peace. But then came World War II and Korea. Veteran organizations urged Congress to amend the holiday by changing it from Armistice Day to Veterans Day.
So on June 1, 1954, November 11th became a day to honor American veterans of all wars. Today we honor all the veterans who have helped keep our country safe.
Here at Taps Our Duty that's exactly what we do with every military calling hours we provide. We help families honor deceased Veterans for their sacrifice and service.
Hopefully, we honor our Veterans throughout the year. But on this special day, we encourage everyone to remember their courage, selflessness, and sacrifice.
Happy Veterans Day!
Until next time,
Mark Williamson
Command Master Chief
U. S. Navy (Retired)
I served 23 years active duty and saw firsthand the courage, selflessness, and sacrifices our soldiers make. I feel a personal and solemn obligation to offer them the military wake they so rightly deserve. Call me, Mark Williamson, at 315.272.7327 or contact me here to request a military wake for your loved one.