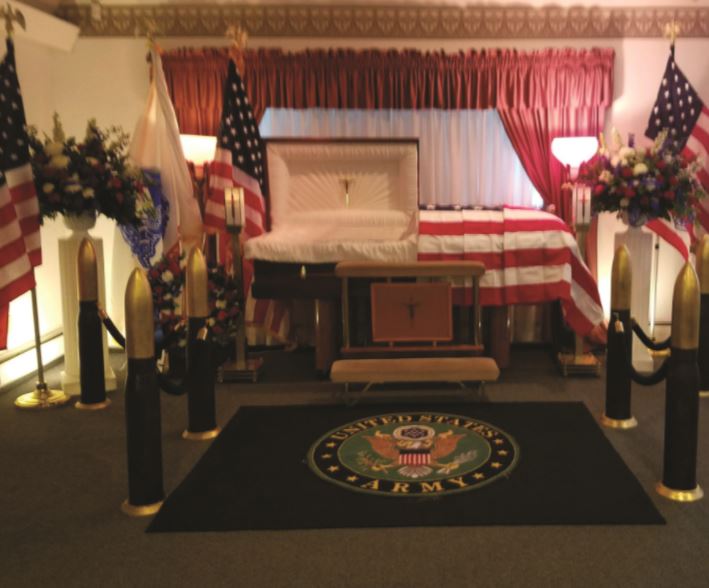 Losing a family member is never easy. Very often, the responsibility of funeral arrangements falls on the shoulders of family members who are already consumed by grief and loss. They put their trust in the local funeral home to handle the difficult details. When the deceased is a veteran, there are additional details to be considered and in many cases, funeral directors lack the knowledge and experience to conduct a proper military wake and funeral service.
This is where TAPS OUR DUTY comes in. When setting up funeral arrangements for the Veteran, let the Funeral Director know that you want TAPS OUR DUTY to provide a proper veteran calling hours. Furthermore, you can let the director know that no floral spray is needed for the casket. The flag provided by the Veterans Administration should be laid out on the casket. (This will save over $200!) You can rest assured that TAPS OUR DUTY will handle the other details.
TAPS OUR DUTY will work directly with the Funeral Home to setup a respectful and proper viewing
area around the casket that creates a sacred space; a sanctuary outfitted with properly arranged flags and seals associated with the departed veteran's branch of service. Military music is played in the background. The family will receive a triangle flag holder along with a flag holder for the grave marker. Diplomatic-style flags will be provided for the processional vehicles for the trip to the cemetery. In short, TAPS OUR DUTY will help provide a first class military tribute for your veteran family member.
Your veteran family member deserves to be recognized for their service to our great nation. Their sacrifice and service should be honored with a traditional military wake, calling hours and funeral. When making final plans for your estate or for your loved-one, be sure to ask for TAPS OUR DUTY.